@Mich_Cooke
Travelling can be extremely lonely sometimes. All those generic hotel rooms. Your single bar of soap, one set of towels, a solitary pillow mint.
Rather than trying to Facetime your loved ones on poor quality free hotel wifi, why not get a pet for a few hours?
Customers at one hotel in Belgium can apparently do just that!
Michelle Cooke from New Zealand, recently tweeted that her friend was staying in the Hotel Charleoi in Belgium.
It was at this hotel that she spotted a gold fish with a helpful sign, informing guests that they can rent the creature for a few hours at a time.
Maybe it's to combat loneliness, maybe it's just the novelty factor, but it's certainly cute.
My friend is staying in a hotel in Belgium. They've offered her the option of renting a fish for the night, in case… https://t.co/yCtwPx00we

— Michelle DC (@Michelle DC) 1504345916
The rent-a-fish policy has been popular with customers, and features in numerous reviews of the hotel on Trip Advisor.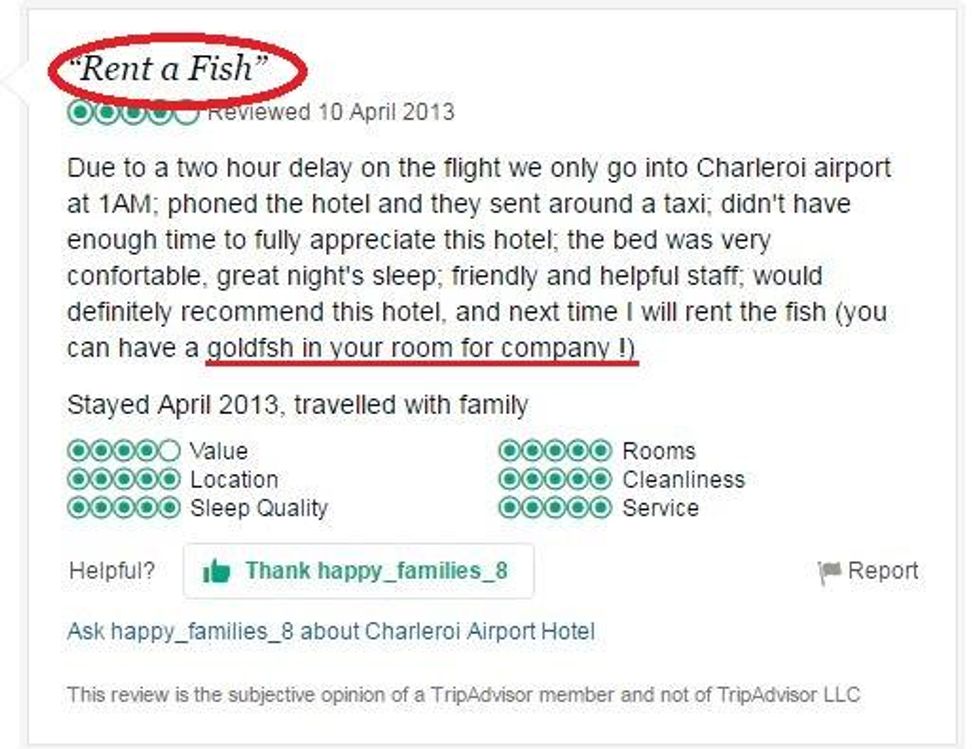 Picture: Trip Advisor
The manager of the hotel David Dillen told The Independent
We started a few years ago. The idea was to surprise our guests, as we always try to do.

It's brilliant to see how people react to it. They smile, they take pictures to put on social media. We rent a few fish per week.
Dillen confirmed that the gold fish are properly taken of by the staff.
I can also tell you that we take very good care of our fish; they have been with us for over four years now, so if they were not taken care of they would have died a long time ago.

They also have a big fish-tank in the housekeeping department, with a shelter, oxygen and plants. When we think it's necessary, we put them there for a few days.
HT Independent