content.jwplatform.com
Sir Lenny Henry helped set a Guinness World Record last week after over a thousand artists from across the globe picked up their brushes to paint portraits of the national treasure .
Sky Arts hosted the live portrait-painting event at Lindley Hall, London, to celebrate the 10 th anniversary of the national art competition Portrait Artist of the Year.
Artists of all abilities (200 in person and 1150 online) had one hour to paint a portrait of Sir Lenny Henry on an A3 canvas using acrylic paints.
Ahead of the record attempt, Sir Lenny Henry spoke to indy100 about the event, his appreciation for art along with its importance, and his latest project Three Little Birds.
Sir Lenny described the event as "extraordinary" and jokingly noted how keen he was to get involved "as somebody who is quite vain to be in a room where over 200 people are all painting a picture of you."
Upon arrival at the venue, artists were queuing around the block to take part in a record attempt – some travelling as far as Yorkshire and Glasgow to attend in person.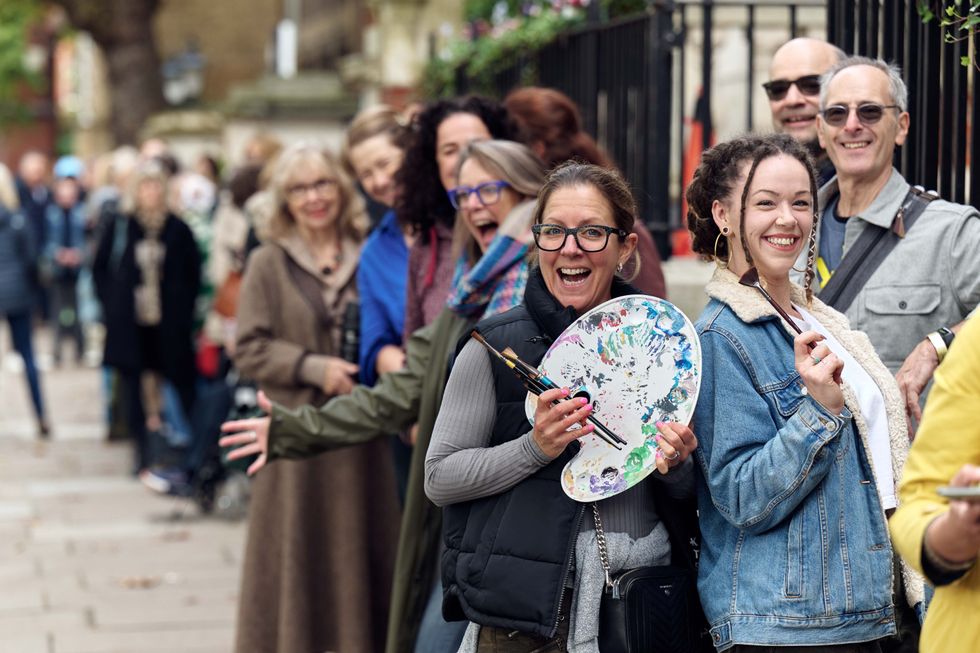 Excited art-lovers queuing up outside Lindley Hall, London to take part in the live portrait painting of Sir Lenny Henry for a Guinness World Record attempt Sky Arts
"I was just talking to some of the artists out there, some of them from the queue," the actor, comedian, and writer noted.
"They were all talking about the beneficial aspects of any kind of drawing or painting or landscape drawing or painting.
"This lady said 'I start painting if I feel bad or if I've got a headache or something I paint and within 10 minutes I've forgotten it I'm just in the painting,' and I think that anything that can do that whether it's playing the piano or painting.
"Even if you're not very good, it can release something in you, some kind of creative sperm that can ease your mind and you can lose yourself in the art and I've been very lucky because I've been able to do that since I was 16."
During the bleaker times of the Covid pandemic lockdowns, many of us picked up new hobbies such as drawing or painting to cope with this new reality, and Sir Lenny believes since then people have discovered that "finding some kind of creative outlet is key to survival."
"I think that if you could do something that lets you lose yourself, we're not thinking about the things that assail you every day. It's a good thing," he added.
"So to me, writing, playing the piano, walking, thinking these are all good things to be doing. And for a lot of these people here, to sit down with a pencil or a paintbrush and just lose themselves in a painting is something it's like taking an aspirin but a lot cheaper."
This is not the first time that Sir Lenny has posed for a portrait, as last year's Portrait Artist of the Year winner Morag Caister was invited to paint a portrait of Sir Lenny for the National Portrait Gallery 's permanent collection.
"The National Portrait Gallery as you walk in – it's there and you look up and go "Oh my God that's Len!" he exclaimed.
"I'm really proud of it and Morag did a great job."
Nowadays, most of us see ourselves in photographs and therefore a portrait painting might not be exactly as how you imagined it – a factor which Sir Lenny mentioned: "A lot of my family said it was the first time they had seen a picture of me that wasn't the picture they expected."
"Photographs are very different, a photograph is [claps his hands together] and it's done," he explained.
"Whereas to paint something over a period of time, where you're continually revising and rethinking. And re-conceptualising your idea is completely different.
"So of course, the picture that ended up on the wall of a National Portrait Gallery, you could say, well, that's like, Lenny, but it's like 77 of a second have an instance of a moment of levity. It's not just one moment."
And that's just one portrait painting – for this event, there are going to be over a thousand different portraits of Sir Lenny, where all the artists will have their own perception of him.
"If you look at the room, there are a couple of 100 easels up there," he said.
"With all these people, they're gonna paint me from hundreds of different angles and that fascinates me.
"I wonder if you were to glue all the pieces together, it'd be like a kaleidoscope of Len like The Truman Show in picture form of extraordinary. It's very flattering."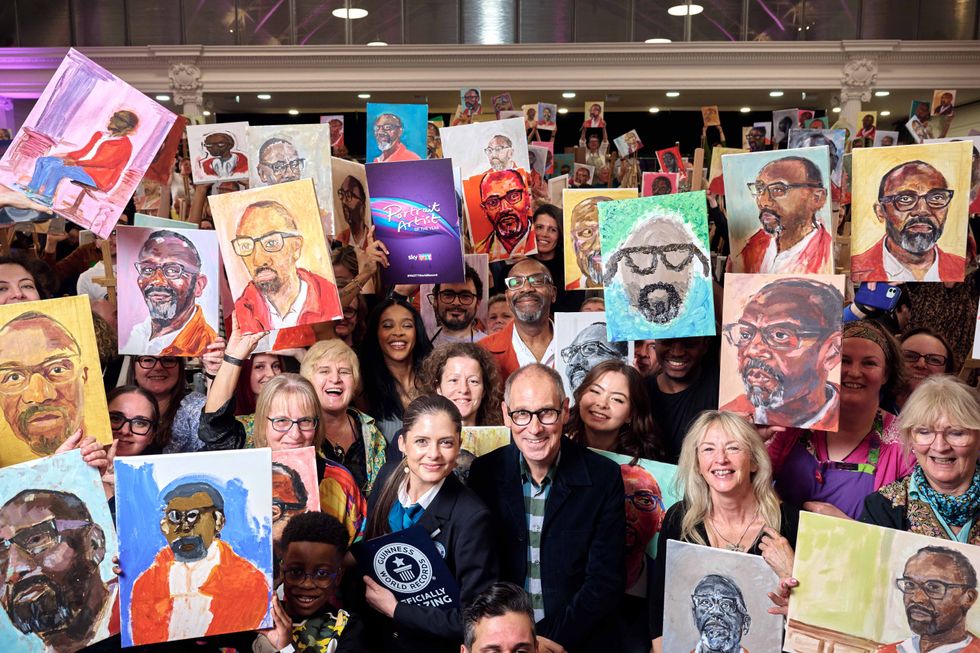 Sir Lenny Henry with some of the artists who took part in the portrait painting record attempt, along with their artwork. Sky Arts
While Sir Lenny did not pick up a paintbrush for this event (after all he was modelling), he was humble about his drawing abilities.
"I could sort of do caricature type things and I could copy the Marvel Comics a bit," he said, though "…to sit in and draw a tree or something that wasn't something [he] could do."
But an art fan he is, noting how he's got "a lot of art" in his house and listing off some of his favourite artists.
"Morag showed me some of her portfolio and I thought it was delightful," the entertainer commented,
"There's an artist in Cornwall, called Steven Hubbard , who paints household tools. He paints things like secateurs and swimming goggles, and Meccano race cars made beautiful."
He added: "I loved Keith Haring because I was a big fan of early hip hop. So Keith Haring was kind of visual representation of the scene was quite extraordinary, all those men with the movement lines outside and all those really weird shapes."
Sitting for a portrait is an experience of quietude as the artist studies and paints their subject – so where exactly does the model's mind go?
"You're just in a kind of semi-meditative state," according to Sir Lenny.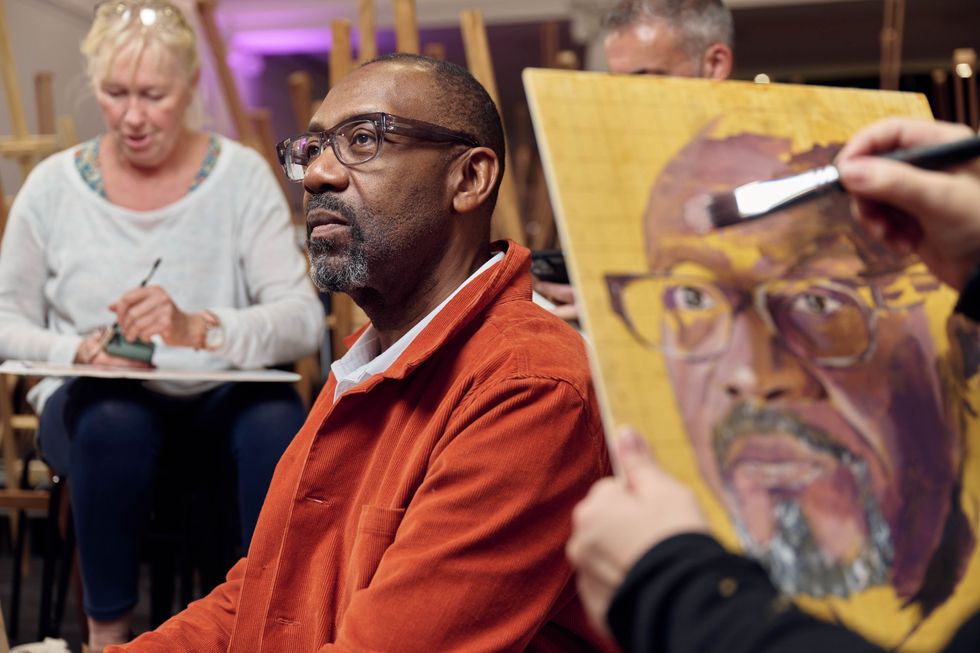 Sir Lenny Henry getting his portrait painted by over 200 people last Saturday (October 28). Sky Arts
"Your brain just goes away with the fairies and the next thing you know, it's two hours later."
(Don't worry, tea and loo breaks are also included).
In terms of getting facial expression right it's "…that face that demeanour you've got when you're just listening, or you're just thinking something through, so you're not going to go, you know, in a rip to smile, saying, 'Pay me and I can do this for three minutes'.
Post portrait painting live, Sir Lenny shared what the experience was like – "The record attempt was amazing and surpassed all my expectations. It was inspiring to see so many artists of all abilities and ages come together," and added how seeing 200 portrait of himself in person was "quite a moment."
Phil Edgar-Jones, Director of Sky Arts, said : " It was lovely to welcome so many fans and aspiring artists down to Lindley Hall this weekend to celebrate the tenth series of Portrait Artist of the Year.
"It was fantastic to have Sir Lenny back sitting for us, and to see how much the artists accomplished in an hour - we definitely had some stars of the future in the room."
This record attempt was a global affair with 1150 art-lovers painted along online from across the world, via a live stream broadcast on Facebook and TikTok hosted by presenter, Yinka Bokinni, with people tuning in from Norway, Portugal, Canada and the US.
Livestream participants included students from Art-K , an art school for children and adults with studios across England and Wales, as well as schools who have participated in Sky Arts' Access All Arts Week initiative.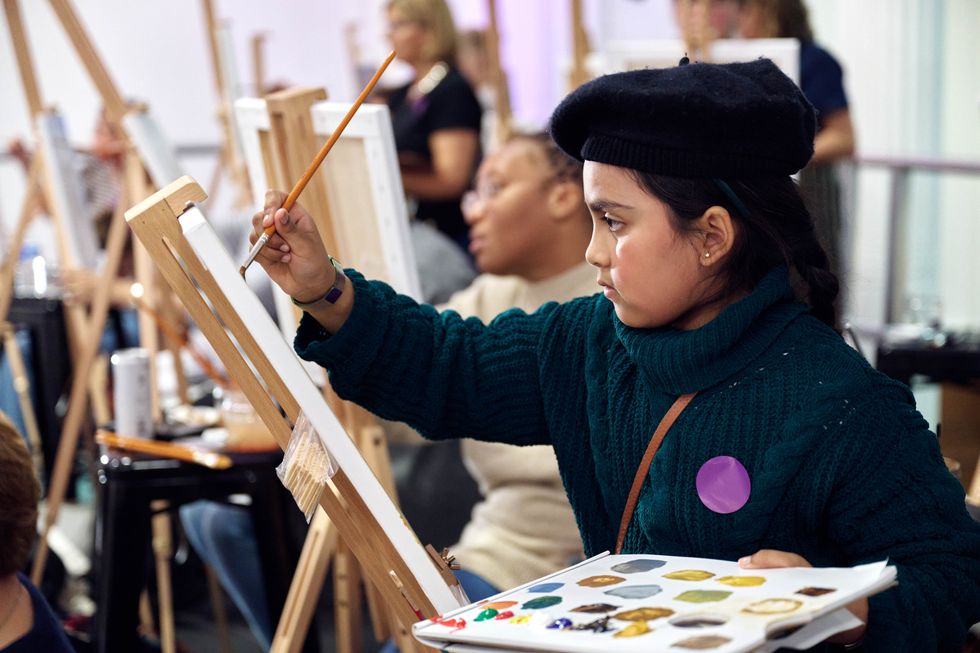 A child taking part in the portrait painting record attempt Sky Arts
Sir Lenny emphasised the need for art to be a staple in the education curriculum and how art intersects with other subjects.
"I think that one of the things you need to have at school is this idea that art is everything and everything is art, and art comes into every subject matter," he told indy100.
"So this idea of trying to squish art out of the STEM [science, technology, engineering and mathematics] thing is a mistake," referring to the government's focus on these subjects in recent years.
"There's an area where maths and art meet and I think that if people don't understand that they're crazy to me."
Sir Lenny added: "Art should be in every school, just like Black history , because Black history is our history in the same way that artists for everyone, and I think people should think about that."
Black history plays a crucial part in Sir Lenny's writing for the ITV drama Three Little Birds , after getting inspired by stories he was told by his mother Winifred who was part of the Windrush generation of the late fifties.
The story is set in 1957, post-Windrush, and follows three women - sisters Leah (Rochelle Neil) and Chantrelle (Saffron Coomber) and their friend Hosanna (Yazmin Belo) - who make the three-week journey from Clarendon, Jamaica to start a new life in Dudley, Britain.
The show is been praised for how it doesn't shy away from the brutal reality of the racist treatment the Windrush generation received as they made the UK their home.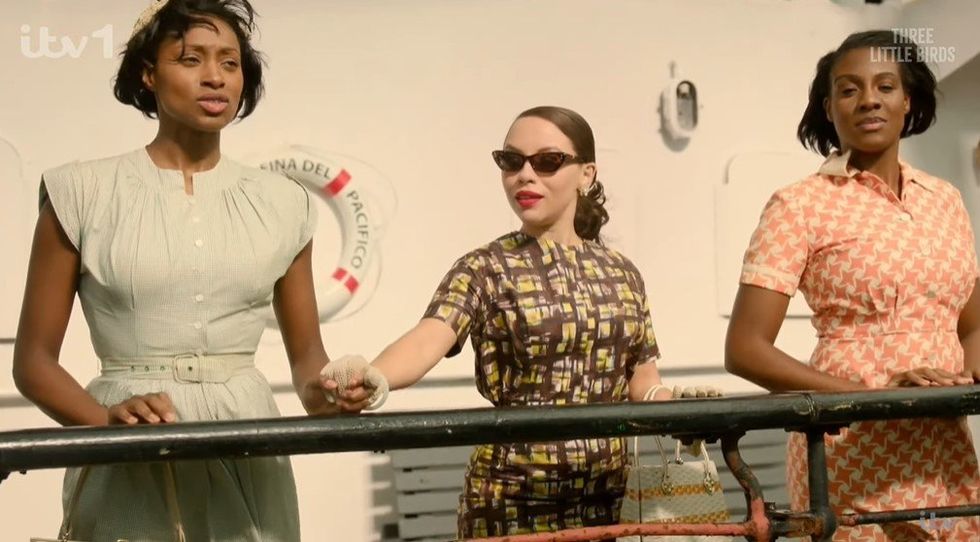 'Three Little Birds,' written by Sir Lenny Henry, first aired on Sunday 22nd October at 9pm on ITV1. ITV
"You could say, apart from abstract landscapes, the best art comes from reality," Sir Lenny noted.
"My family came to this country in the 50s. I was born in 1958 and I grew up in a world where people, it took a long time for people to get used to us because we're visually other.
"People were scared, you know, they think 'these people have come over here to take our jobs'. And we didn't take any of these jobs, we came here and worked very hard to try and fit in and to feed our kids and clothe them.
Acceptance was also a "big thing" for Sir Lenny's family too.
"My mom told us that we had to integrate and try to fit in with the English people. And we did our best and I think that is a triumph.
"And that's what Three Little Birds about. It's about the triumph of overcoming obstacles of racism, patriarchy, sexism, and it's about families and allies uniting to do that."
The show has also received glowing feedback from his family.
"My nephew Lester said 'I've told everybody in Leicester. We've watched all of them they want to know where season two is happening.' My family love it."
Portraits painted as part of the record attempt can be viewed by following #PAOTYWorldRecord on social media. The event was also supported by art materials supplier, Cass Art.
Portrait Artist of the Year airs weekly on Sky Arts, Freeview and NOW.
All episodes of 'Three Little Birds' are available to watch on ITVX.
How to join the indy100's free WhatsApp channel
Sign up to our free Indy100 weekly newsletter
Have your say in our news democracy. Click the upvote icon at the top of the page to help raise this article through the indy100 rankings.