On Friday night, Donald Trump did one of the weirdest things that he has ever done on Twitter.
At 7:04 pm GMT, the president of the United States of America posted a video of his maligned State of the Union speech set to the classic 1992 R.E.M. song 'Everybody Hurts'.
The clip, which was initially pulled from Twitter for copyright infringement did return but has now been deleted altogether, showed Democrat lawmakers like Alexandria Ocasio-Cortez and Bernie Sanders looking depressed and saddened at Trump's words.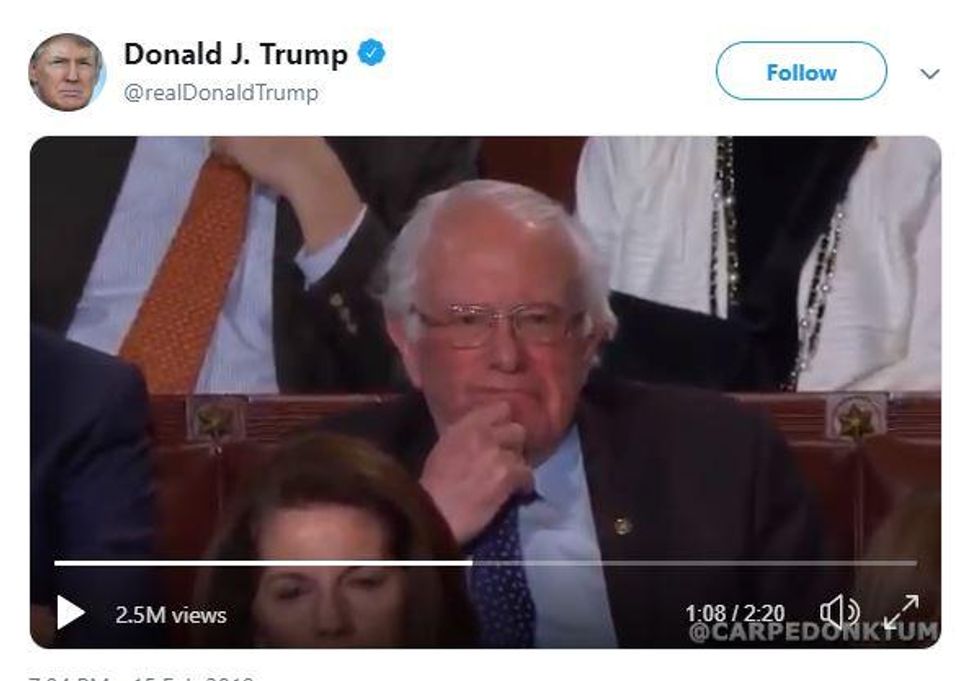 Picture: realDonaldTrump/Twitter
Before it was pulled, the Twitter reaction was one of shock, hilarity and downright confusion.
Reports suggest that Trump obtained the joke video from a right-wing account called Carpe Donktum.
The video was only on Trump's account for a few hours before it was removed, which caused a lot of backlash and humour among Trump fans and his opponents.
R.E.M.'s bassist Mike Mills was quick to condemn Trump and the account that made the video.
In a tweet, he told Twitter CEO Jack Dorsey to 'get on this'.
The official R.E.M. Twitter account also called out Trump, branding him 'World Leader PRETEND' and telling the media to 'ghost this faker'.
HT Variety