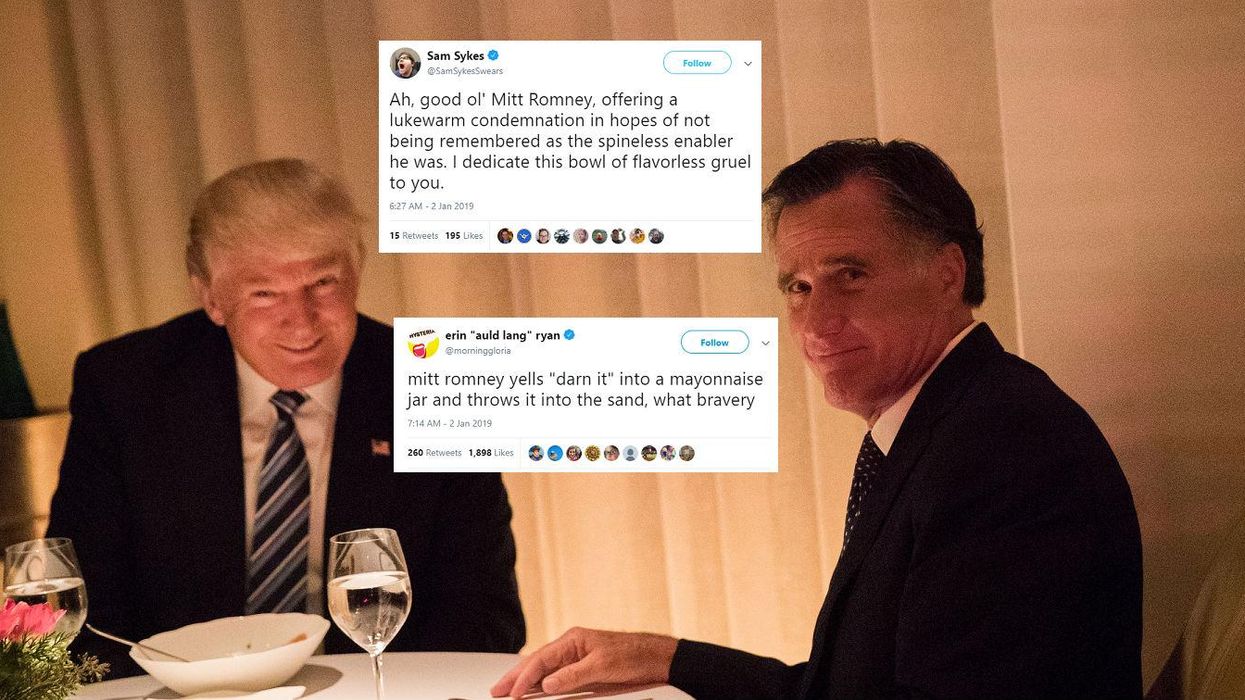 Drew Angerer/Getty Images and Twitter
Donald Trump has started off the new year in Donald Trump fashion: With a tweet completely in capital letters, and an insult.
Mitt Romney started the New Year with criticism of his own, and penned a Washington Post op-ed about the US president.
The former Republican US presidential candidate and senator elect for Utah has attacked the US president, who he said caused dismay around the world.
He wrote:
The world is also watching. Trump's words and actions have caused dismay around the world.

[Trump's policies] are divisive, racist, sexist, anti-immigrant, dishonest or destructive to democratic institutions.
Romney's fighting words have been taken by many with a pinch of salt, as the US politicians has criticised the US president in the past, only to appear to show support for him shortly after.
People on Twitter have seen his op-ed as nothing more than jumping on a bandwagon.
Others have pointed out that he's been a bit back and forth with his praise and criticism of the US president...
Some are accusing Romney of 'manipulating the news cycle.'
'Republicans like Mitt Romney and John Kelly masterfully manipulate news cycles to appear to criticize [sic] trump wile staying squarely in his camp and many journalists and news outlets fall for it every time,' one Twitter user wrote.
One of the things people pointed out was that during the 2016 elections, Romney called Trump a 'phoney [and a] fraud' and argued he was unfit for office.
After the 'grab em by the p****y' Access Hollywood tape, Romney added that these 'vile degradations demean our wives and daughters and corrupt America's face to the world.'
However three weeks after Trump won, he was pictured having dinner with the US president.
Needless to say, people aren't impressed by the op-ed.