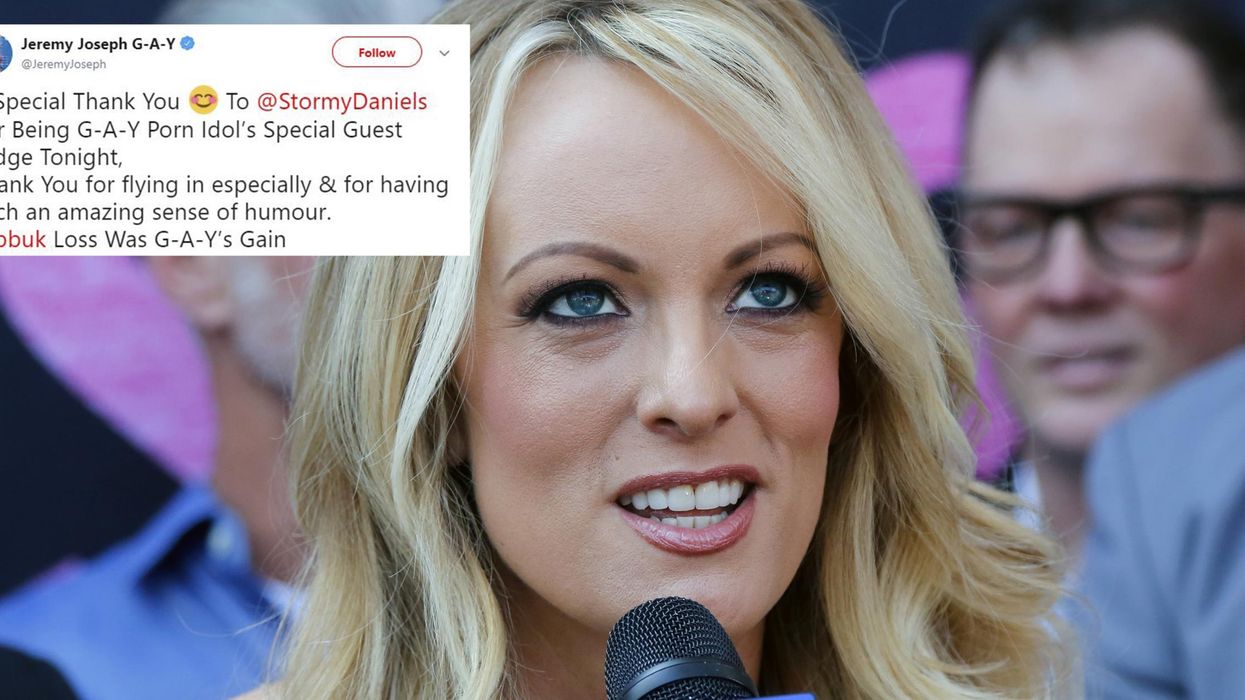 Ringo H.W. Chiu/ AP/ Twitter
Stormy Daniels made a whistle-stop tour to the UK on Thursday where she made a surprise appearance at London's G-A-Y nightclub.
The 39-year-old former porn star, whose fame has risen due to her alleged affair with Donald Trump, was part of a judging panel an amateur stripper contest at the venue.
The light-hearted contest, dubbed 'Porn Idol', usually always involves a celebrity judge who delivers their finest opinions as club-goers voluntarily take off their clothes
.Daniels oversaw the competition alongside the drag artists Baga Chipz and Son of a Tutu, who was dressed as the Statue of Liberty and held a sign saying: "Trump F****d me too".
The drag artist and equality activist later thanked Daniels on Instagram.
The club's owner Jeremy Joseph also thanked her on Twitter and made reference to the star dropping out of the UK's version of Celebrity Big Brother.
Other club-goers and photographers also shared an image of Daniels at G-A-Y on social media.
Daniels has claimed that the CBB producers had threatened to 'deport her' for dropping out of the show on launch night.
In an interview on the ITV show Loose Women she said:
The live show started, I stayed at the hotel and they came back a couple of hours later and they said 'you're either going to go on, stay in the house, follow the contract to a tee or we're deporting you in the morning.'

It is absolutely not true that I demanded more money - absolutely not true.

As a matter of fact I tried to give away all of my money.

No, it was never about the money. Anybody will tell you I don't care. I was trying to give the money away.
In regards to her appearance at G-A-Y, Daniels hadn't even been announced before the 1am start but there had been hints on social media
Afterwards, Joseph told Gay Star News that Daniels was a great guest and that they will definitely be inviting her back.
She was quite reserved at first, but as you get to know her, she got nicer and nicer.

As you talk to her, you realise everything she's going through and the way she's living her life.

And you sometimes forget they're human beings. You forget what she's going through.

The thing I liked most about her was her sense of humour. I think we'll be having her back.
HT Daily Mail