If you're old enough to have watched WWE in the late 90s to early 00s, you might recall that female inclusion in their programming wasn't particularly encouraging. Bikini contests and mud wrestling were not uncommon and, while it may have been presented as cheap titillation, the demeaning aspects and the reduction of women to mere sex objects cannot be ignored.
Recently, things have begun to improve vastly for women's wrestling. The Netflix series GLOW helped open eyes to how empowering women's wrestling can be, while the WWE has been putting women at the forefront of their shows for the past 2-3 years - but there's still a long way to go in terms of overall equality.
But one company attempting to change all that is the UK's own Pro-Wrestling: EVE.
EVE, created by husband and wife team Dann and Emily Read, had their first ever show in 2010 and primarily operated as a family orientated company. EVE then went on a self-imposed hiatus due to Emily being diagnosed with bipolar disorder.
The company then reemerged in 2016 to run the first ever all-woman wrestling show in London. Their return heralded a new era and outlook for the company where self-identity, LGBT+ rights, women's rights, body positivity and discussions on mental health (plus a regular cabaret act) became part of the promotion's ethos, through the vehicle of professional wrestling.
Picture: Pro-Wrestling: EVE
Speaking to Indy100 Emily now discusses her mental health openly at EVE shows, explained how her personal recovery helped inform her promotions new image.
I found that during my recovery that the timid nature that is encouraged in women and diluting yourself to make others feel comfortable just felt like a waste of time. I also realised how I could use this honesty as an effective tool for my business. Wrestling is the medium I use to put forward my art, my beliefs and views as a person. That's why I feel EVE can't be copied because it is an extension on mine and Dann's identities.
Their new outlook was firmly based on incorporating feminist and punk ideals into the many aspects of professional wrestling while avoiding all the sexual connotations that had preceded western women's wrestling in the past.
When you decide not to sexualize wrestling we can view these women without having their looks be the most important thing about them. It's a brilliant way to tell a story and view them as people with different looks, body shapes and personalities. That's our focus and I think that it's worth making a loud noise about. Wrestling as a medium is something that lends itself very well to body positivity and showing people as who they are.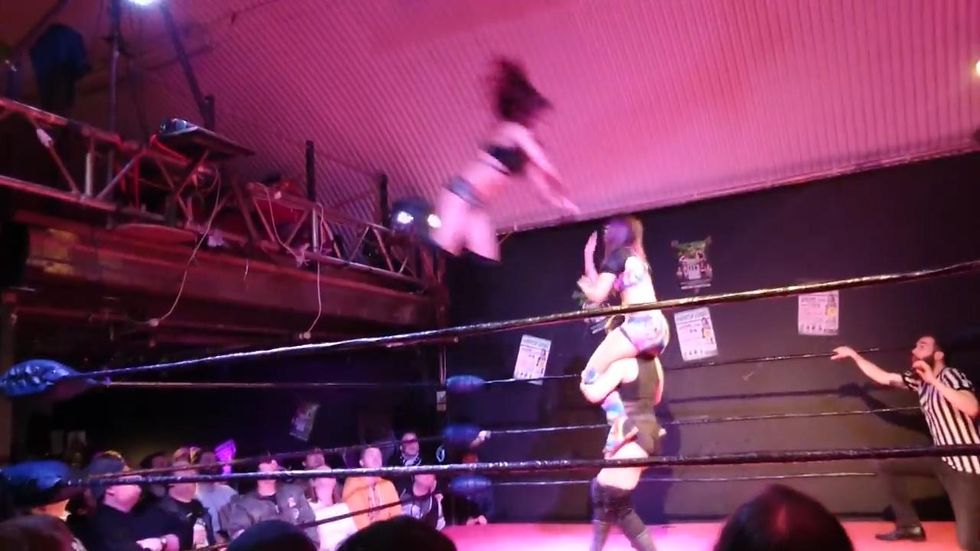 Picture: Pro-Wrestling: EVE
Since their return EVE has become one of the most unique and recognisable promotions in independent wrestling. Their punk, grassroots ethos has helped create a genuine movement that has attracted fans of the sport and others who may have never watched wrestling before in their lives. Their loyal audience, which WWE legend Mick Foley once compared to the avid crowds seen at ECW (a promotion which had a cult following in the 1990s) are not only welcomed to enjoy the shows they are also made to feel safe from harassment.
We have a very large female fanbase who have never seen any other form of wrestling apart from EVE. People are begging and screaming to be shown strong women, whether they are bad guys or good guys. They don't want to see airbrushed women wearing appropriate body armour. This combined with the fact that we make of point of saying that you are safe at this show really helps. If you are here alone and you want someone to walk you back to the station we are there and we can happily do that and we want you to feel happy and safe and comfortable at our shows. You don't have to worry about being harassed here because generally speaking it doesn't happen because if it does, that person is going to get kicked out.
This is something that has transitioned over into the EVE Academy where the future stars of women's wrestling are being taught the ropes by trainers Greg Burridge and one of EVE's longest-serving stars and their former champion Rhia O'Reilly, a wrestler who has been with the company since day one. Through the training sessions, where any self-identifying woman can attend, Rhia has noticed the benefits that wrestling can have for women.
Some women walk in here on day one with sunken shoulders, staring at the floor, shuffling their feet. In the space of two hours, they become loud and proud and are ready to make noise. To see the change in their confidence levels is amazing. They can take that outside of their training class and take that into their everyday lives.
Rhia, who also works for the Big Issue Foundation (the charitable wing of the publication) has been competing as a wrestler since 2010. Not only has she seen first hand how the industry has changed its appreciation of women in that time, but also how companies like EVE are gradually helping change perceptions.
As progressive as the discussion around mental health has been, it can still be a bit of a taboo in any form of sport or entertainment, including wrestling. I think EVE is trying to create this space where it's OK to talk about these things. No one is defined by a job title and no one should be defined by a mental health label.
Being open about yourself and discussing topics like mental health is a key part of what EVE does and this has transferred into the promotion working closely with charities and causes. These include (but not limited to) Mind, Turn2Me, The 888 Collective and Bloody Good Period, the charity that helps women have access to sanitary products who otherwise can't afford them. Emily's openness about her own struggles has seen her be invited to talk and give advice at charity events.
It's a real honour and it's probably the thing I do that means the most to me. It's not always about mental health, but I can show them that women can be strong in a male-dominated environment or help them forgive themselves for these symptoms that are completely normal but wildly misunderstood. Sadly, with funding in the NHS, there isn't much support now and we need to support each other, so those charities are really there on the front line picking up the flack.
The welcoming and progressive environment that EVE promotes has not only helped people with their mental health struggles, it has also helped people discuss their own personal identities and sexuality.
Charlie Morgan, real name Yasmin Lander, is one of the top stars in EVE and - last July - became the first wrestler to ever come out as gay at a live wrestling show. Speaking to indy100, she explained why she chose EVE as the company to make such a brave announcement.
The company and the fans kind of fit hand-in-hand because they have the same outlook on life. It's about equal rights and opportunities and pride. It's what I thought the Charlie Morgan character was about. I don't think it would have worked anywhere else and I don't think I would have done it if EVE didn't exist. The moment wasn't about defining Charlie Morgan as the 'gay wrestler'. That's not what it's about. It's about inspiring other people. That's the pure reason behind it all.
That inspiring moment has now opened more doors for Charlie and she now believes that the wrestling industry and society as a whole can now help others come to terms with who they are.
It's not what the fans can do but society on a whole. If people look up to us as wrestlers then they also take an interest in us as people. Being vocal about who we are and LGBT+ rights reflects positively on the business and on the fans.
This weekend, Charlie will compete in the main event of not just EVE's biggest show, but the biggest all-female wrestling show in Europe ever; Wrestle Queendom.
The event, which will take place at the historic York Hall in Bethnal Green, London, is potentially one of the most ambitious independent wrestling shows ever and will feature top talent from all over the world. This historic event is a huge step-up from their usual home at Bethnal Green's Resistance Gallery but, for Emily, this is part of not just the natural progression of EVE, but also the progression of feminism.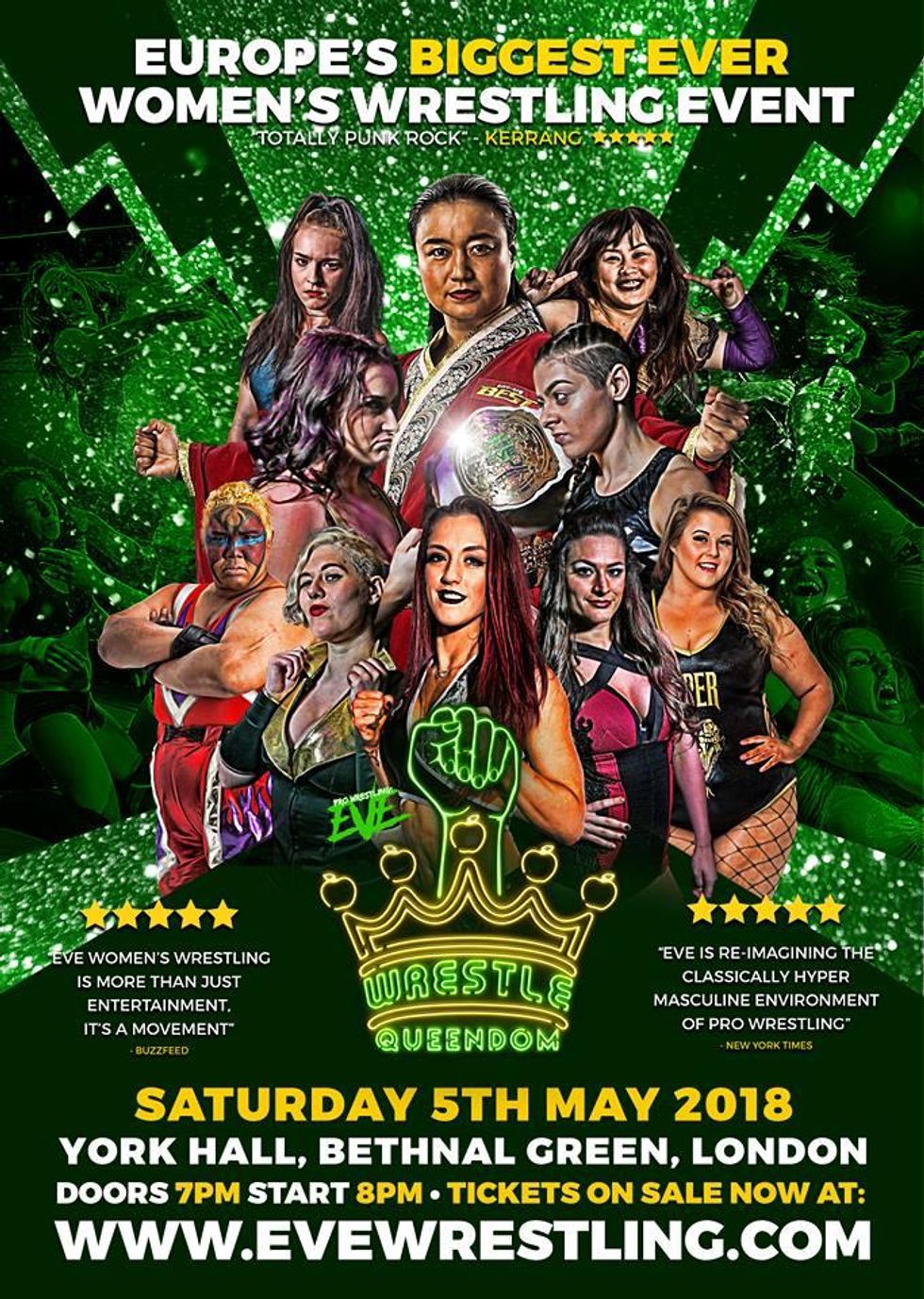 Picture: Pro-Wrestling EVE
When you look back at the history of feminism, progression can be slow and it can take decades. That's just how social movement works. What it always needs is that catalyst and that fire, and people at the forefront like Dann, and myself, who're not afraid to make noise and demand what should be done, no matter how radical it might seem.

With EVE, what we've found that we need is to make those bold moves and show people not how it can be done, but how it should be done.
Rhia shares these sentiments on this milestone:
It feels more than a show, it feels like a landmark event in women's wrestling and that's what has been more amazing than anything. No one has ever done anything like this on this magnitude. That's what has proven to be the most exciting thing about it. We are going to be a part of history.
This feeling is also echoed by Charlie:
I always had hoped that it would get to this stage, but I didn't think it would happen so soon and this is just the start.

I can't imagine what's going to come in the future, but I think things are only going to get bigger and bigger.
Wrestle Queendom is guaranteed to be a huge success for EVE and women's wrestling as a whole. Yet, it stands to serve as a major statement for feminism and how empowering the medium of wrestling can be, while also highlighting the inequality that unfortunately exists in all aspects of society. Emily concludes:
People who say that there isn't sexism anymore and that there is no more need for feminism, I think that we are the proof that there is a need for it.
Wrestle Queendom takes place at York Hall, Bethnal Green, London on 5 May. Purchase tickets or found out how to watch online here.
To learn more about Pro-Wrestling: EVE, please find their website or follow them on Facebook, Twitter, Instagram or YouTube.