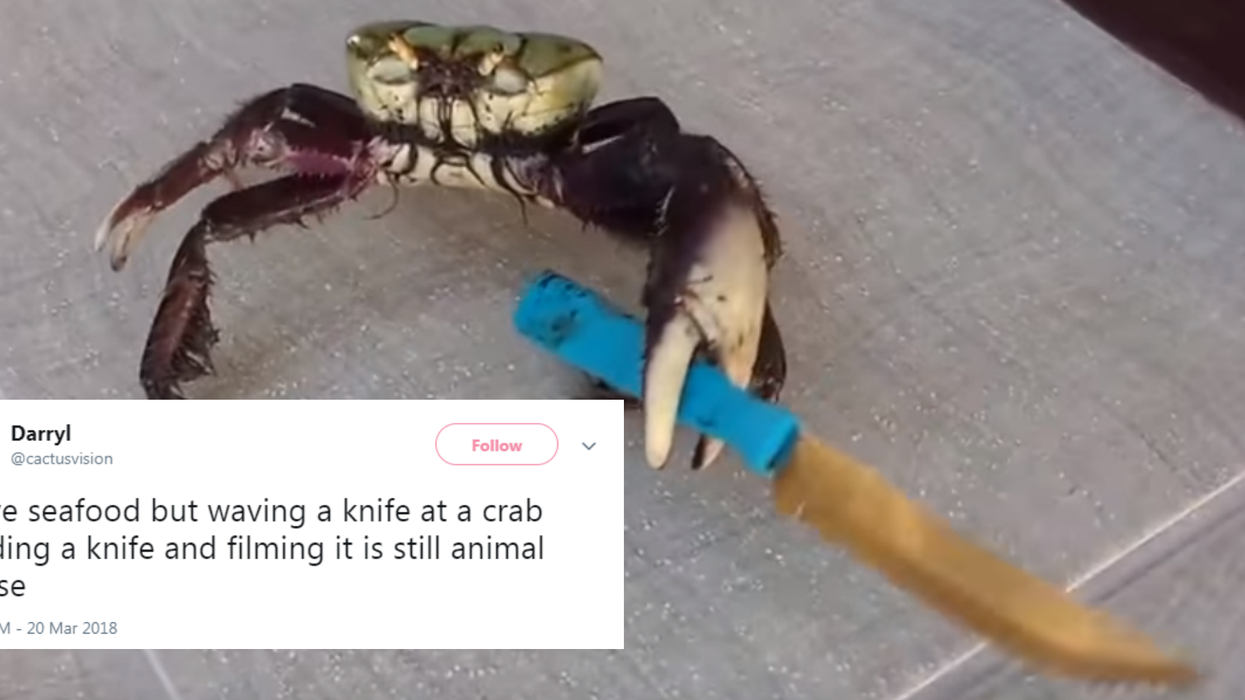 YouTube / Eduard Ferenczi
Remember 'Hitler crab' , the angry knife-wielding crustacean that baffled the internet (and turned out to be a hoax)?
Well, it clearly has a cousin, as another sword-fighting crab has arrived on YouTube and, inevitably, the internet has fallen in love with the latest shellfish superhero.
Handling the blade with ease and immense skill, the little crab scuttles around the sink trying to avoid its human opponent who is teasing it with a much, much bigger knife. Doesn't sounds so endearing now, does it?
In an interview with IFLScience, marine biologist Molly Zaleski said that the knife was almost certainly put in the crab's claw by someone tormenting it:
I would bet with 99 per cent certainty somebody put that knife in the crab's claws to make a funny video.

It's definitely not normal crab behaviour to use knives as tools or to use knives as defence against humans.
She continued:
The crab is happening to grab the knife opportunistically at the handle.

Toward the end of the video, you'll notice it's starting to grab at the blade, which is too thin. It's not because the crab knows how to use a knife, it's because the width of the handle is more conducive to its claw grab than the width of the blade.
People on Twitter have accused the person holding the knife of animal abuse.
Heartbreaking. This poor, smart crab didn't stand a chance. She tried hard to escape, wielding a little knife! The… https://t.co/SBRsVBxQHO

— Ingrid Newkirk (@Ingrid Newkirk) 1521754859
@IngridNewkirk Oh noooo ;-; poor thing omg

— Always with 5HINee (@Always with 5HINee) 1521766858