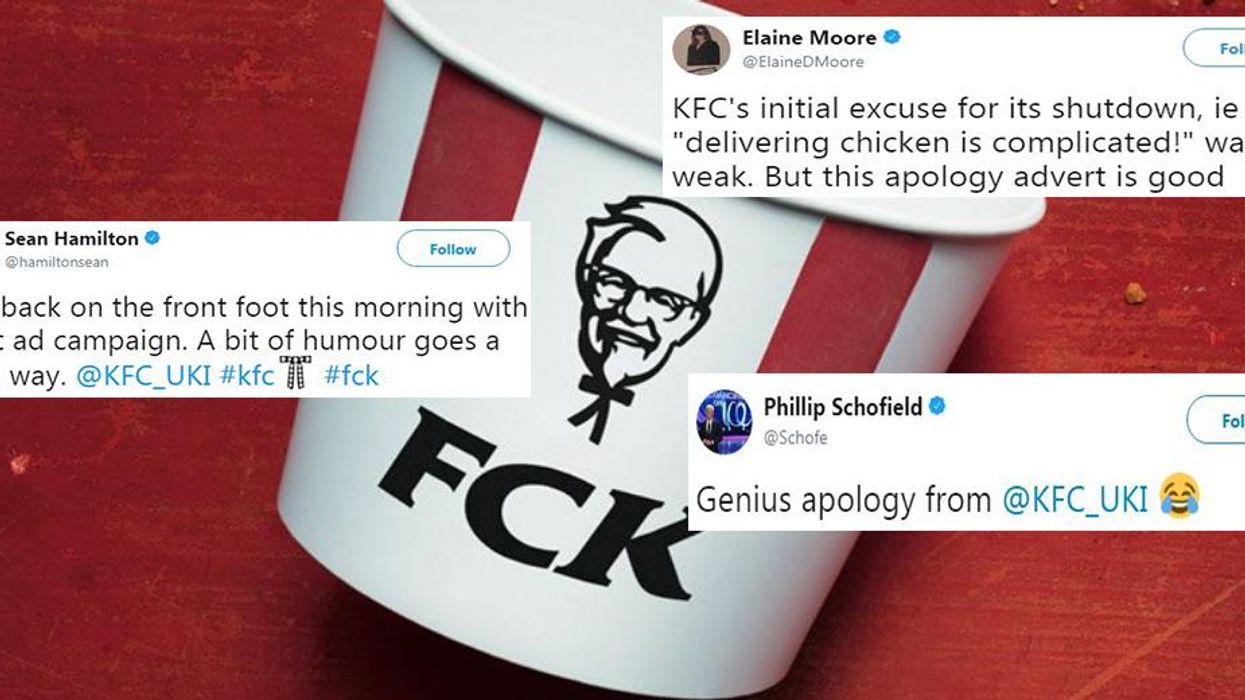 KFC/Twitter
Its only February but we doubt the UK will experience a crisis quite as testing as the great KFC chicken shortage for the rest of the year.
The sheer lack of chicken available to the starving public was causing people to do really weird things, like report the problem to the police and eat at Burger King.
Well, we have great news as KFC now officially has chicken back in stores so you can order Zinger Tower burgers and Family Buckets to your heart's content.
To spread the word about the return of chicken to their establishments. KFC took out a full page advert in both The Sun and Metro newspapers.
It proved to be the perfect blend of a sincere apology and a chance to mock themselves. People loved the honest and canny piece of PR.
Whoever is in charge of @KFC_UKI's marketing and press - bravo 👏🏼 This ad and the Q&A posters are great, very cleve… https://t.co/OcCBAoWDKp

— Francesca Perryman (@Francesca Perryman) 1519394804
The full apology reads:
A chicken restaurant without any chicken. It's not ideal.

Huge apologies to our customers, especially those who travelled out of their way to find we were closed.

And endless thanks to our KFC team member and our franchise partners for working tirelessly to improve the situation.

It's been a hell of a week but we're making progress and every day more and more fresh chicken is being delivered to our restaurants.

Thank you for bearing with us.
Given that the chicken has now returned to restaurants, KFC's UK and Ireland Twitter account are hoping to find the unfortunate woman who had to eat at Burger King which prompted a brief but funny exchange between the two fast-food brands.
@BurgerKingUK Never forget. https://t.co/EEAIsVNZ5h

— KFC UK (@KFC UK) 1519301504
According to Campaign, the ad was created by the design agency Mother London, so a lot of the praise should also go to them too.
KFC has reopened around 700 of their 900 UK branches.