Getty Images / Kevork Djansezian / Staff; Getty Images / Marianna Massey / Stringer
Mrs Doubtfire actress Sally Field is playing matchmaker.
The Oscar-winning actress's youngest son, writer and director Sam Greisman, has a bit of a crush on Olympic figure skater Adam Rippon.
Can you blame him, when this is Adam Rippon?
Picture
Greisman shared a part of a text message between him and his mum about Rippon.
He wrote on Twitter:
Just some really helpful advice from my mom on how to deal with my Olympic crush.
Field encouraged her 30-year-old son to act on his interest.
Sam…he's insanely pretty. Find a way..
Then, in a move that rivals Jane Austen's Emma, Field went ahead and shared her son's tweet, tagging Rippon.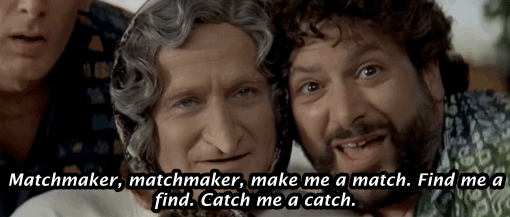 Picture: Mrs Doubtfire/ giphy 
Greisman replied with "yikes".
The figure skater, who is part of the US team and won bronze at the Winter Olympics in Pyeongchang, has been making headlines for being the first openly gay US winter Olympian.
Rippon hasn't replied publicly to Greisman (or his mum for that matter), but people are hoping this could be a thing. Because it's adorable.
People also praised Field's support for her son. Mama did good.
Finally, everyone wants updates.