Ty Wright/Getty Images
Another day, another disgraceful, sexist comment from Donald Trump.
This month we've Trump Tapes (#HotMicGate) during which the Republican nominee appeared to brag about sexual assault, the weak and offensive apology ('Locker Room Chat'™), and the sexist response to the scandal.
We've had the hashtag #RepealThe19th, calling for women to be denied the vote on the basis of a 'Dude Map', more than 10 accusations of sexual assault, Trump's denial on the basis that the women were too physically unattractive to assault, reports that he will face child rape charges in court...we've even heard him make sexually explicit comments about his own daughter.
And now this.
Trump just turned his sexism onto his opponent, Democratic nominee Hillary Clinton.
Just when you thought the 2016 US presidential elections couldn't get any uglier.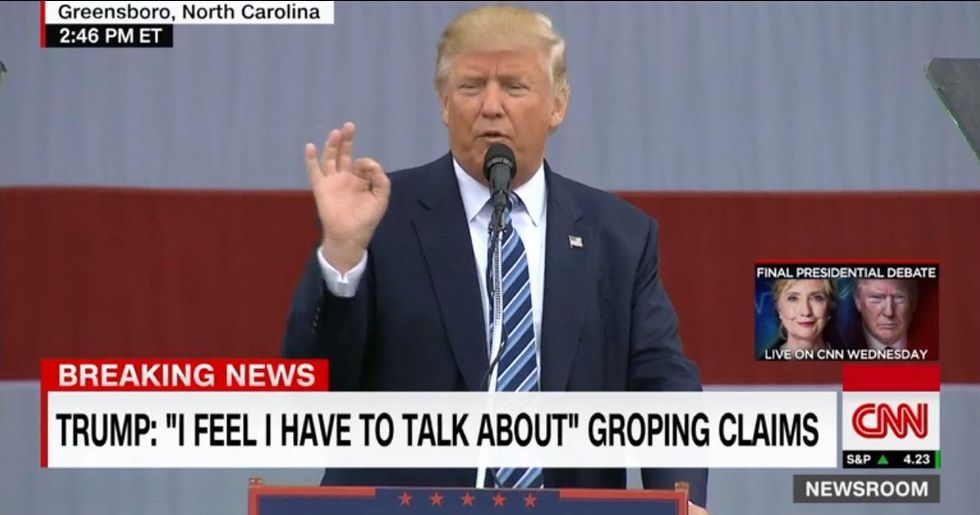 Picture: Screenshot/CNN
At a rally in North Carolina on Friday, he appeared to make negative remarks concerning Clinton's appearance from behind.
Referring to the presidential debate (where he was accused of prowling behind her like an animal) Trump had this to say:
I'm standing at my podium and she walks in front of me, right. She walks in front of me, you know. And when she walked in front of me, believe me, I wasn't impressed.
He also suggested that Barack Obama could be accused of sexual assault or misconduct.
Why doesn't some woman maybe come up and say what they say falsely about me? They could say it about him. They could say it about anybody.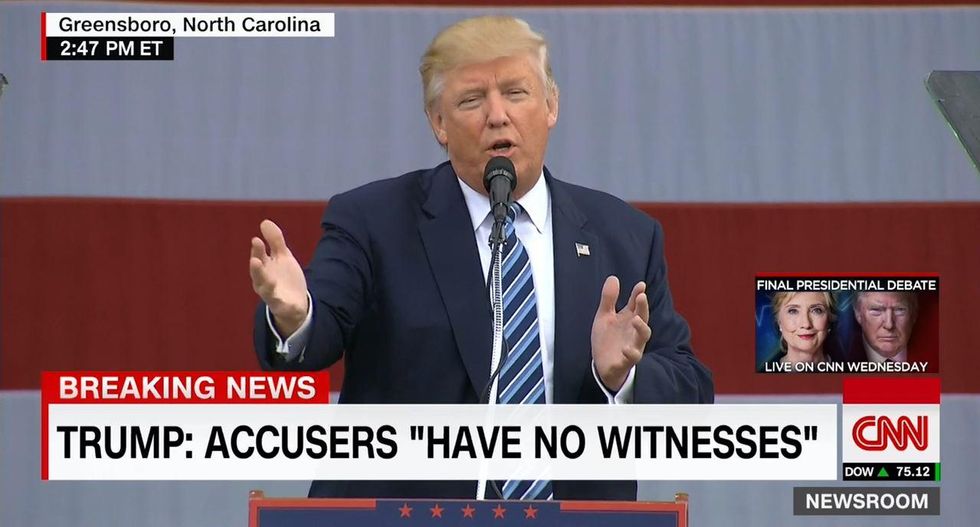 Picture: Screenshot/CNN
In case that wasn't bad enough for one rally, Trump also decided it would be a good idea to address allegations of sexual assault by miming what it would look like if he did "grab 'em by the p***y".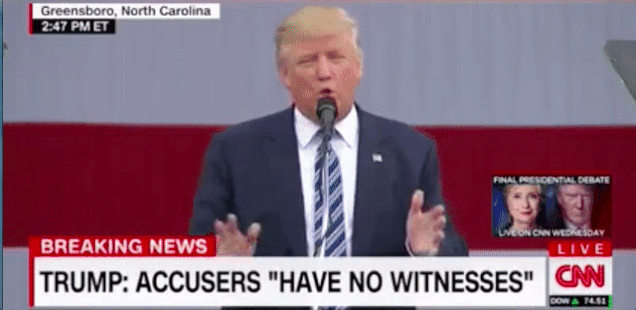 Picture: CNN (via Jezebel)
Supporters in the crowd were actually heard to yell: "We don't care!"
HT Mashable