Video
Since being greenlit by Netflix in 2022, fans of Squid Game have been looking forward to its 'real-life' counterpart that would see 456 public contenders go head-to-head for a staggering cash prize of $4.56 million (£3.9 million).
Naturally, with no death penalty on the cards like the original show, the tempting offer of a life-changing sum of money attracted people globally to Bedfordshire, willing to take the chance on Squid Game: The Challenge.
However, today reports of 'inhumane conditions' on set have forced Netflix to defend themselves, with those 'eliminated' coming out en masse to slam the welfare practices towards those who signed up.
It's thought only 228 people made it past the first challenge.
"The best way I can describe it is manufactured torture", one contestant, who wishes to remain anonymous, told Indy100.
They claim that the cast was a mixture of applicants, paid actors, and people who were 'recruited' online (which is how they got onto the show), with CEOs, nurses, students, and grandparents among the vast spread.
The group of contestants were put up in a hotel in London, and transferred via coach to the set in Bedford during the hours of darkness.
While they were warned of cold conditions - which is one of the points Netflix has defended themselves on - they weren't prepared for the amount of time it would reportedly take to film, with those involved claiming that the iconic 'Red Light Green Light' segment was shot from 13:00 GMT to 22:00 GMT.
"The five minute game lasted nine hours, in sub-zero weather, with no coat", the contestant told us.
"We didn't get a water break, a loo break, food. People didn't get their medications where they were meant to get them."
Those involved were given tracksuits and plimsolls to wear, similar to the characters in the hit show, but were apparently told that they couldn't be zipped up, so that they could see their numbers clearly.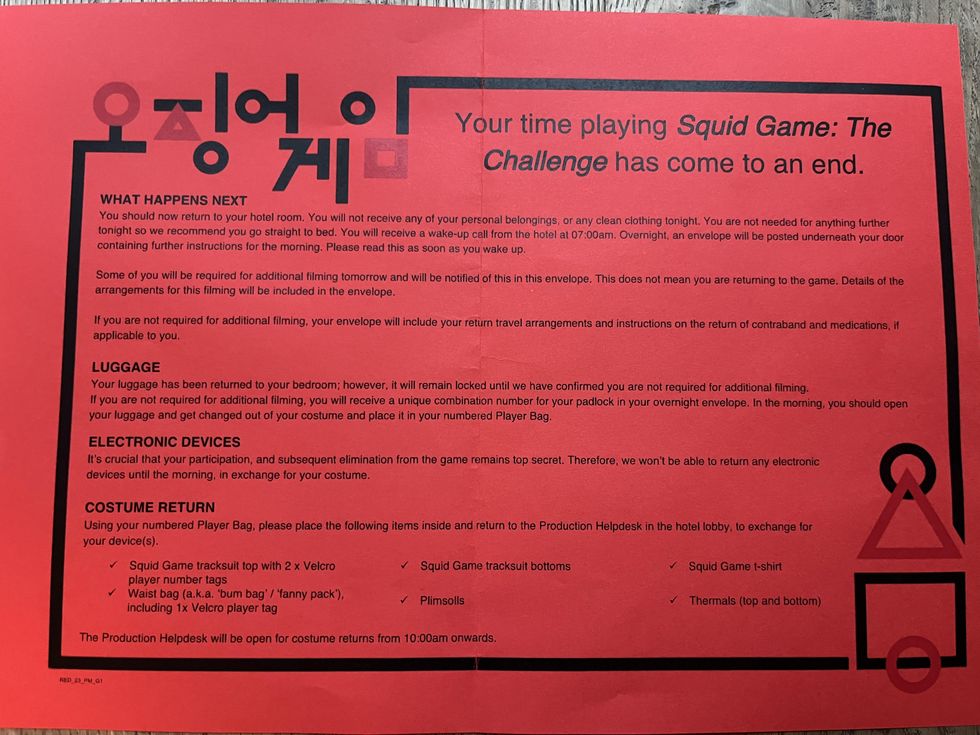 Contestants claim that medics were called '11 times' to people who had collapsed and gotten sick in the freezing temperatures (a claim which the production company denies), before the filming of the first game had even reached its halfway point.
"I see this girl just swaying, and all of a sudden she just buckles, you can hear her head hit the concrete", Indy100 is told, with contestants adding that 'survival' became the motivator, rather than the money.
They also say that the show provided eight welfare officers to look after 456 people.
"We yelled for a medic for 20 to 30 seconds, and she starts convulsing on the ground. But we're told the game can't pause and we're stood like statues in our positions for 26 minutes. I know that because the girl next to me was counting."
"Whenever you watch this, if you do, and you see them in Red Light Green Light bring out the black casket with the pink ribbon…they're filming that shot, while the medic on the other side of the stage is working on somebody."
Our source claims they've been 'dehydrated' and 'vomiting' with 'diarrhea' since leaving the show two days ago, and even after filming, contestants allegedly weren't allowed access to fresh clothes or the codes to their luggage.
Contestants are now reportedly sharing their experiences via a secret group (as NDAs among other documentation prevents them from speaking out).
Google Street View
"If you think about the real Squid Game, nothing has to do with cold temperatures, nothing has to do with standing there for nine hours", they say.
"No one mentioned that this was engineered torture.
"I feel bruised emotionally. It was abusive. No one's going to understand this unless you were there. We [the contestants] feel connected by this trauma to be very honest."
However, when contacted by Indy100, Netflix denied claims made, saying one person had injured their shoulder from running into a wall, and that three people were treated for 'mild medical conditions'.
They also refute all claims that contestants weren't given bathroom breaks or opportunity to drink water and eat throughout filming.
A statement on behalf of Studio Lambert, The Garden, and Netflix reads:
"We care deeply about the health and safety of our cast and crew, and invested in all the appropriate safety procedures. While it was very cold on set -- and participants were prepared for that -- any claims of serious injury are untrue."
Have your say in our news democracy. Click the upvote icon at the top of the page to help raise this article through the indy100 rankings.